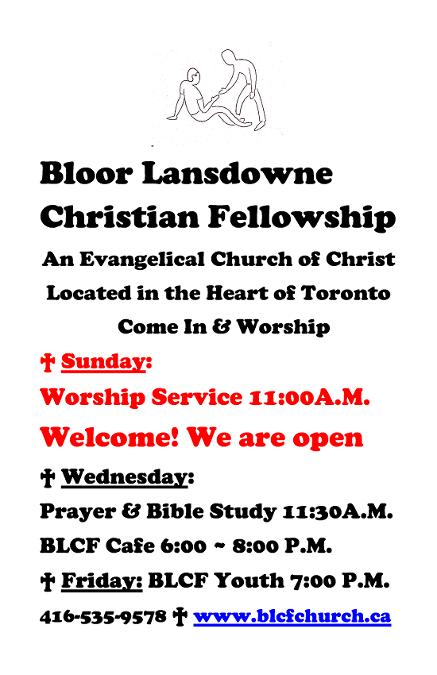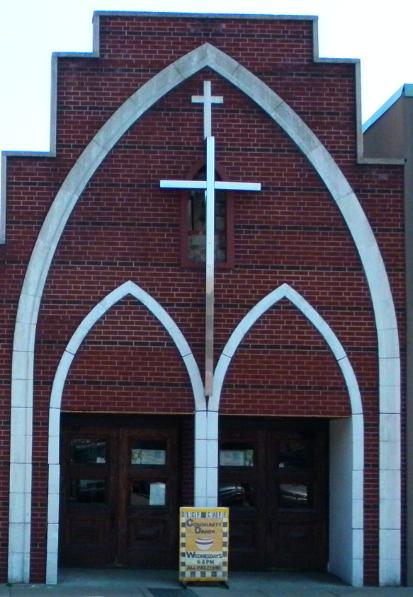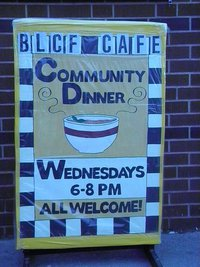 Contact Info:
Bloor Lansdowne Christian Fellowship - BLCF Church
BLCF Café Community Dinner
c/o Bloor Lansdowne Christian Fellowship
1307 Bloor Street West Toronto, ON
Phone | 416-535-9578
Email | blcfcafe@yahoo.ca | blcfchurch@yahoo.ca
BLOG | blcfcafe.blogspot.com
Web Page | www.blcfchurch.ca
Dear BLCF Friends,
Effective April 10, 2022, Bloor Lansdowne Christian Fellowship – BLCF Church will reopen by reservation only for Sunday worship under the limitations and guidelines set by Public Health and the Board of BLCF. In order to protect those who are vulnerable at Bloor Lansdowne Christian Fellowship from COVID-19 Virus infection, the BLCF Board mandates that the church will be open by reservation, with the following rules:
attendees must wear a mask while on the premises
attendees give their contact information upon arrival
attendees observe two meters social distance while seated
attendees use hand sanitizer as needed
attendees follow any additional directions given by members of the board, while inside the church
Please be advised that both the BLCF Café Community Dinner and the BLCF Wednesday Prayer Service will continue to remain closed effective March 16, 2020, and until further notice. We pray with the administration of sufficient COVID-19 vaccinations, and following the determination of Health Canada and other Health Authorities, that the danger of the Pandemic will have subsided sufficiently, to allow BLCF to reopen safely more of our worship and outreach activities without any concern of infection to the vulnerable within our community.
– Pastor Steve
Note: All photographic images, documents, web-designs, and graphic images may be subject to (c) copyright and are the property of Bloor Lansdowne Christian Fellowship or the author, and may not be duplicated or reproduced by any means without written permission from Bloor Lansdowne Christian Fellowship. Violators of said (c) copyright may be subject to penalties and legal remedies under Canadian and International Copyright Laws.
HOW YOU CAN HELP THE CAUSE OF THE BLCF CAFÉ:
The BLCF Café is run under the auspices of BLCF Church, a non-profit organization and the support of a dedicated core of volunteers. While the need is great, BLCF's resources are limited, having no corporate sponsors or government grants. Help to keep this vital BLCF Café Community Dinner by volunteering your time.
Some BLCF Café Facts:
 Volunteers for the BLCF Café are welcome
 A $150 donation will enable the BLCF Café to feed 100 guests
 Non-perishable bulk food items will help make meals
 Socks and gloves will warm the feet and hands of the homeless
© Bloor Lansdowne Christian Fellowship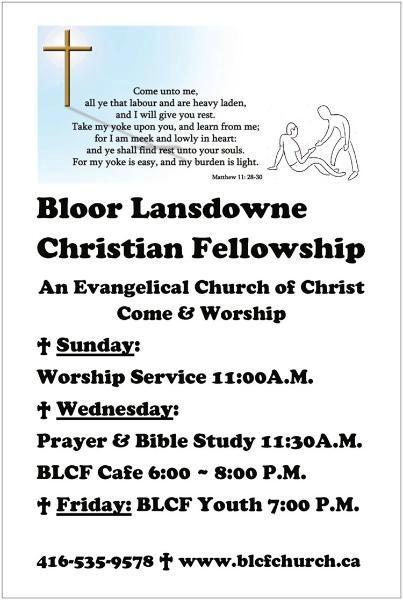 Please Note:

While BLCF Cafe is willing to complete school, college and university community service volunteer forms, in order to ensure both the safety and protection of young volunteers, BLCF will neither supervise nor fill out forms or letters for volunteers required by the courts or social services.